Upcoming Shows
CHECK OUT OUR NEW JAMS:

https://fourbanger.bandcamp.com

POSTED: Saturday December 18th, 2016



What hiatus?

POSTED: Saturday August 30, 2008
Hey Steve, your singing was a little flat that time.

Barry, why don't you play an 'A' for Steve.



Tick-Tock!

POSTED: Saturday October 28, 2006
The clock is ticking...



WE LIVE!

POSTED: Thursday April 13, 2006
Greetings -

We are alive and well. We're in the process of writing some new awesomeness. Come watch us play the Captain Squeegee CD Release Show. It's on a Saturday and it's all ages. You have no excuse. See details on the shows page. Happy Easter.



HOT SHOWS COMING RIGHT UP!

POSTED: Monday January 16, 2006 - MLK!
Greetings -

Holidays are over and all that. Check the pair of shows coming right up!



WE'RE ALIVE!

POSTED: Friday October 21, 2005
Greetings -

Hello all. What we thought would be a short little break turned into something much too long. But we're in the process of getting the rust off and we've got a couple of hot shows that you need to come to. It's that simple.

The fellow who burglarized both us and Before Braille on Valentine's Day was identified, booked, and then let out. He didn't show up for court last time I heard. The legal system rules.

Also, feel free to drop by the board. It's pretty much died.



STOLEN GEAR ALERT!!!

POSTED: Monday February 14, 2005
Greetings -

I come with bad news. Our practice space was broken into last night/early this morning (Valentine's Day). It most likely happened early this morning. The police don't care about these things so it's up to us to get the word out ASAP. This is the time where these cool guys will hit the pawn shops and brag to their friends. So all we're asking is that you keep an eye and ear out. Fourbanger, Before Braille, and another band lost gear. The ones with a * are Fourbanger's. Here is what is missing:

GUITARS
*Ernie Ball MusicMan Sterling Bass - White Sparkle (SN# F05710)
*Gibson Les Paul Studio - Black (SN# 02061712)
*Fender Telecaster- Black
*Gibson SG Special- Red
*Gibson II Hybrid (red) (SN# 94005161)
Fender Telecaster (cut out body), White Grain, Maple Neck (some damage by the input & face)
Ernie Ball MusicMan Bass - Black
Cort- Yellow-ish Cream Bass
Gibson Les Paul Studio - Dark Maroon/Blackish
Ibanez 'SGR' Bass- Black


DRUMS
*Pearl Masters MRX - Wood Green, 5 Piece in Enduro Black Hard Cases
*Zildjian Cymbals in case (2 Crashes, Ride, Hi-hats - A Custom)
Pork Pie Drum Chair, Black Cushioned
Paiste 18", 20" Crash Cymbals
Stick Bag - Black
10 Sets of Sticks, I set of Brushes
Noble and Cooley Snare Drum - Red
Zildjian New Beat Hi-hat with Axis Pedal and Cymbols
Axis Kick Pedal
Axis Stands - Black & Silver


PEDALS
Ernie Ball Volume Pedal x 2
Boss Tuners x 3 (white)
Boss Distortion (orange)
Guitar Cords x 4
Peavey DL-4 Effects Pedal - White
Korg Toneworks Effects Pedal - Red
Line 6 Green Pedal
AMPS
Peavey 12" Practice Amp


NECKBEARD'S SODA BARD KICKOFF SHOW!!!

POSTED: Sunday January 09, 2005
There's a new venue in town. It's all ages. It's not way out in Phoenix. And it about time!

Name: Neckbeard's Soda Bar
Location: SW Corner of Mill and Baseline (it's a little strip mall)
What: It's an all ages music venue. Capacity is around a few hundred. It's clean. It's new. They have this bar, but it's for Soda. As times progresses they'll have more flavors and brands, but to kick it off they'll be selling Jones Sodas. Very nice. Sound is legit. Stage is legit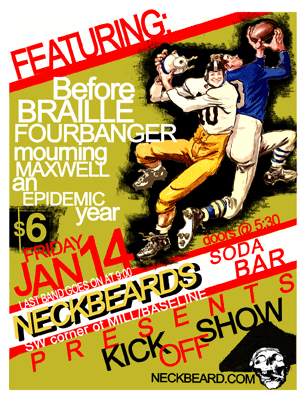 THE $5 FOURBANGER HOLIDAY SALE!!!


POSTED: Tuesday December 14, 2004

Have you done all of your Christmas shopping? You're running out of time! We can't compete with all the iPods that'll be under the tree this year, but we've got you covered for the stocking stuffers!



CHECK THESE DEALS!!!

$5 - Any 3 CDs (excludes out of print demo)
can be 3 of the same CD
can be 1 of each CD
CDs include Start Your Engine (only a few left), Audio Accident, Imagination Overdose
$5 - Any Shirt
Size and Style limited to stock on hand (we have a decent inventory)
No limit
Every shirt order comes with a free CD of choice (excluding demo)
STYLES (if you want a picture, email me)
- The Rose (YM, YL, S, M, L)
- Firebird (YM, YL, S, M, L, XL)
- Green Eyes (S, M, L, XL)
- Hessian (YS, YM, S, M, L, XL, XXL)
- Imagination OD(YM, YL, S, L, XL)
- Kung Fu(gray) (S, M, L)
- In Flight (YM, YL, S, M, L)
- Tank (YM, M, L)
- Messy 4 (YM, YL, L)
- J-Raff(purple)(YM, YL, S, M, L, XL, XXL)
- J-Raff(orange)(YM, L, XL)
- J-Raff(green) (XL only)
- Burning Heart (gray: S, M, L)
- Burning Heart (light blue: girls S, girls, M)
- Burning Heart (light blue sleeveless girls s, girls M)
The Details:
EMAIL jeff@fourbanger.com FIRST to check availability
Jeff will check and let you know
Jeff will supply you with total cost and mailing address
Payment will be made via USPS with concealed cash
$1 Flat shipping charge per order! ($1 to ship 1 thing or 100 thing)
AZ residents need to send money by Friday December 17th to assure delivery.
Non-AZ residents need to send money...now to assure delivery.
EMAIL JEFF ASAP AND GET THE GIFTS ROLLING!!!
TIME TO VOTE!!!

POSTED: Tuesday November 30, 2004
It's time to vote! Kaltaz.com - Arizona Music Radio is hosting an online battle of the bands. There are 30 bands. You can vote once a week for the next 4 weeks. Don't act like you're not excited. Go here to vote:

http://kaltaz.com/botbvote.htm

Then go tell your friends, neighbors, family, and strangers! Tell someone now by clicking HERE.

Vote Quickly by reading this:



THE MILITIA

POSTED: Saturday September 25th, 2004


The Fourbanger Militia is recruiting! Get in now! What's The Fourbanger Militia? Think street team on steroids without the side effects and about 12371185 times cooler. CLICK THE PICTURE TO SIGN UP NOW!



The Fest

POSTED: Friday September 10th, 2004
If you're planning on attending EdgeFest 2004, please stop by and spend some time with us. Check back for stage and set times on our shows page or our message board.



Shows, Paper, Board...
POSTED: Saturday August 14th, 2004
Keep checking back for more shows as there will be more and more coming that just may appeal to you. There's another wallpaper creation by Eric in the extras section. Come visit us on the message board if you need more info, have questions, or are just bored!

Over and out!




More Shows Coming...
POSTED: Sunday July 11th, 2004
So we've had a little drought in shows for various reasons. Fear not, for the drought is over! New show dates will be posted soon!




Aquabats Tickets
POSTED: Thursday June 24th, 2004
Hello. We'll be playing with The Aquabats on Saturday July 10th at The Marquee Theater. If you think you're going and want to skip the extra couple of dollars, contact us on the contact page and tell us how many tickets you need. We have some and can sell them with no fees for $13. Get 'em while they're hot!




Get the new CD!!!
POSTED: Monday May 10th, 2004
Miss the CD release show? Get our new EP, Imagination Overdose now online at SmartPunk.com. This is the only place to get it for the next few weeks.


It's all over.
POSTED: Saturday May 8th, 2004
The release has come and gone and we thank all of you for coming to support us. The new EP will be available on SmartPunk.com within a couple of days. Enjoy!


It's finally here!
POSTED: Tuesday May 4th, 2004
Welcome to our new layout! Some of the content is lacking, but we are back in full glory none the less!

As most of you are aware, our new EP 'Imagination Overdose' is set to release Friday May 7th. Please join us for this special night. If you have any questions about the show, please visit our contact page and let us know.

Release Show Details:
Dual CD Release for Fourbanger & Mourning Maxwell
Doors @ 6:00pm | All Ages | $10
Venue of Scottsdale (formerly Cajun House)
Batter The Drag
Redfield
Scary Kids Scaring Kids
Logik
Before Braille
Mourning Maxwell
Fourbanger
Fayuca

Get the new Fourbanger EP and the new Mourning Maxwell EP FREE at the door w/ paid admission!